Do-It-Yourself Charter Boat Rentals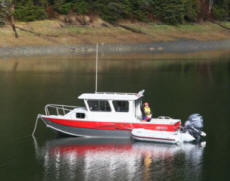 Welcome to Whittier Boat Rental 's website, Alaska's premier boat rental company. We are based in Whittier Alaska on the northwestern corner of Prince William Sound, 60 road miles from Anchorage.
Prince William Sound is protected from the Gulf of Alaska by Hinchinbrook, Hawkins and 52 mile long Montague Island making the waters suitable for our 22-30' boats most summer days.
We offer high quality dependable 22 -30' enclosed cabin boats with outboard motors, modern electronics, safety equipment , shore dinghy's and more.
Our rentals allow you to fish, hunt, sightsee, view wildlife and glaciers, or just get away from it all.
Day trip rentals are popular for salmon and halibut fishing or conducting your own glacier and wildlife tour or both. We have routes available that include glaciers, waterfalls, sea otter rafts, sea lion haul outs, bird rookeries, whale hot spots, salmon choked streams and more or we can help you create a route that suits your interests.
** We now offer Multiday Discounts and Weekly Rates PLUS Rent 10 days in one season and get 50% off the 10th day! Check out our rates on the Reservations page! **
Multiday rentals offer a multitude of activities and sleeping options- return to the harbor at night and stay in a hotel, sleep on the boat, stay in a remote lodge or US Forest Service cabin or camp on the beach. We recommend booking multiday trips as early as possible to improve your chances of being able to coordinate the boat rental with cabins and lodging.(6 months for US Forest Service cabins) Not sure which boat or what kind of accommodations will work best for your party - give us a call, we'd be happy to assist.
World Class Fishing Safaris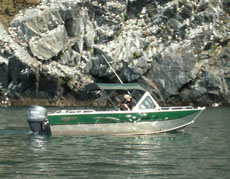 Halibut, Salmon, Rockfish, Ling Cod
Wildlife Photography
Humpback & Grey Whales, Orcas, Porpoises, Sea Otters, Sea Lions, Black Bears, Eagles, & Bird Rookeries
Spectacular Sightseeing
Calving Tide Water Glaciers, Towering Mountains, Crashing Waterfalls, Fields of Ice Bergs, & Glacier Carved Fjords
Overnighters
Beachcombing, Picnics, Hiking, Freshwater Fishing, Collect Glacier Ice
Want to do it yourselve? We also book for the most experienced charter operators in Whittier!